Discover
Fat Truck
Buy or rent today!
Drive off-road, Swim through water, and Climb anywhere in-between
When you need incomparable performance both on and off the road, there's no better choice than the Fat Truck.
Whether you expect amphibious applications or harsh winter conditions, Fat Trucks will deliver you where you need to be.


Fat Trucks offer a wide range of performance features that include:
ROPS ISO 3471 Certified
Automatic Brakes When Vehicle Is Not Moving
An Automated Tire Inflation System
Intuitive Dash Display
Ability to transport up to 8 People
18 HR Fuel Autonomy
Controlled Noise Level
360-Degree Visibility
Side Mirrors
Intuitive Proportional Joystick Drive
Automatic Drive Modes
Ultra-Low Ground Pressure, No More Mud Ruts!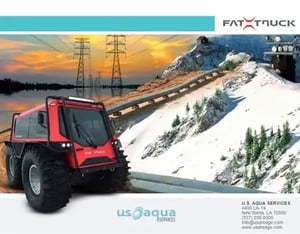 FAT TRUCK SPEC SHEET
Download our Fat Truck spec sheet to learn more about Fat Truck and their features.
This spec sheet provides all of the features of our Fat Truck offerings


On-Road Utility
Off-Road Mobility
Whether you're driving through an industrial work site or across a remote wilderness path, Fat Truck's industrial off-road utility vehicles will deliver.
Built from high-quality materials that can handle any amount of cold, wind, water, or mud, these vehicles offer 67 horsepower to haul, tow, or carry a wide range of cargo.
You'll have the control and strength you need to take on challenging loads, and with our patented front, rear, and roof access, the convenience to come and go where and when you need to.

Fat Truck Offers Premium Performance
Boasting a 2.2 Catapillar® Turbo-Diesel engine and rugged 64" tires, you can overcome any obstacle and ensure your payload arrives safely.
Fat Trucks are ROPS ISO 3471 Certified for safety and easy to handle using our intuitive proportional joystick drive.
Our signature amphibious off-road industrial vehicle seats 8 and offers exceptional durability, handling, and mobility across rough trails, 70% inclined slopes, mud, rough terrain, and water.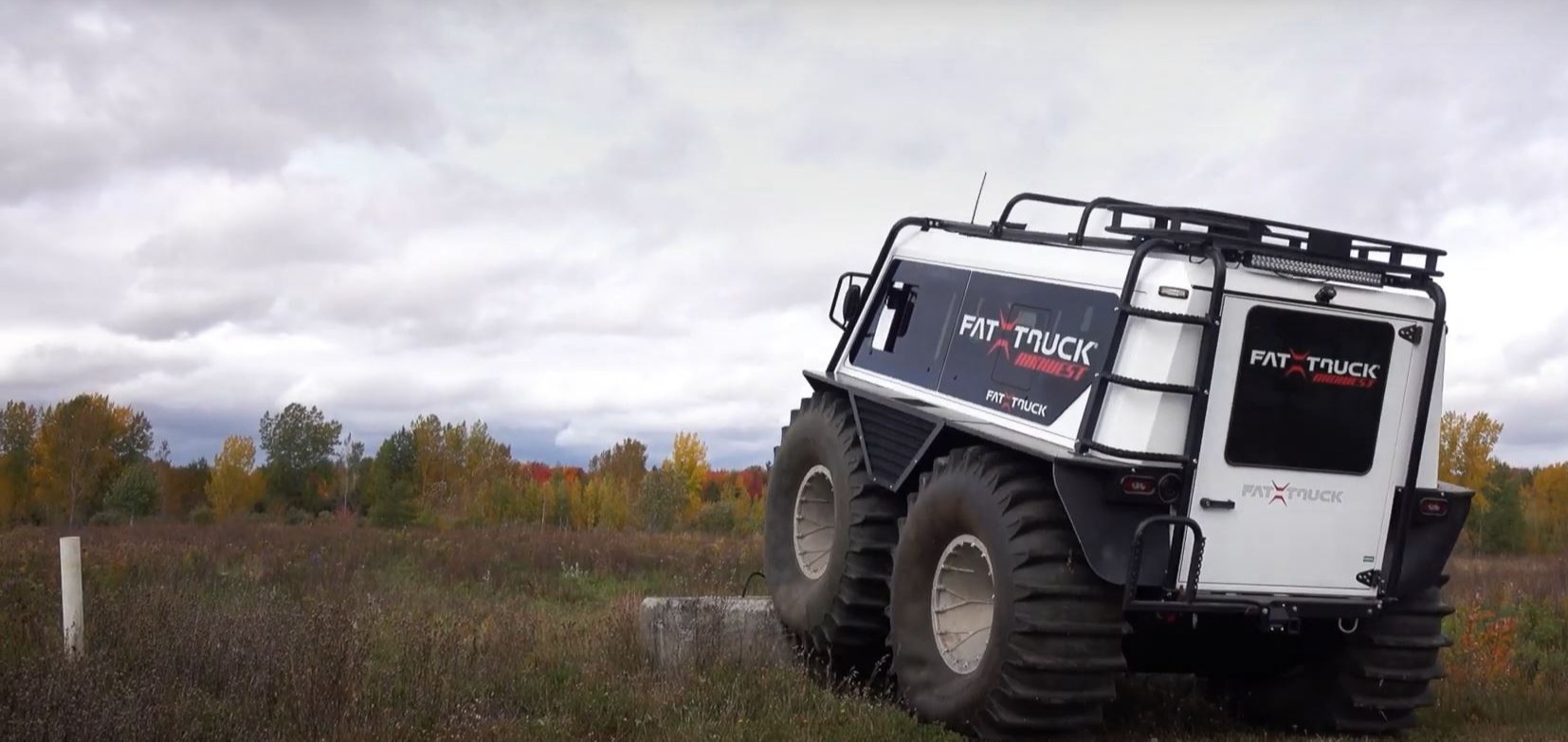 TOP QUALITY MANUFACTURING
No matter the size or scope of the job or the remoteness of your work location, you can rely on Fat Truck's industrial off-road utility vehicles to get the job done right.
We also offer a wide range of towing and truck bed options, and we can deliver your new Fat Truck to your location with ease.
Find out more by contacting us today.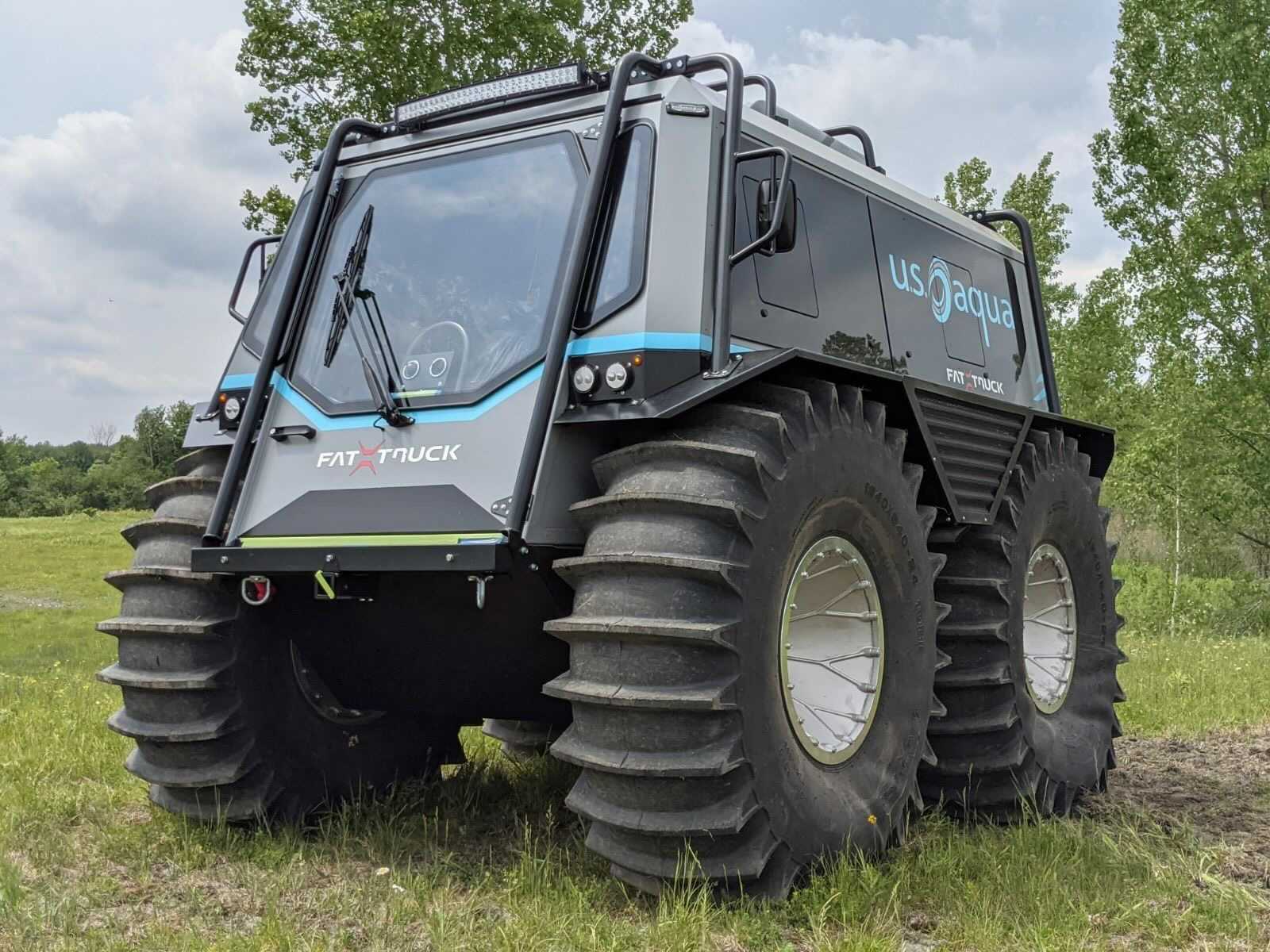 Let Us Help With Your Next Fat Truck Rental
Not sure where to get started on your next rental or are uncertain as to which amphibious vehicle might be right?